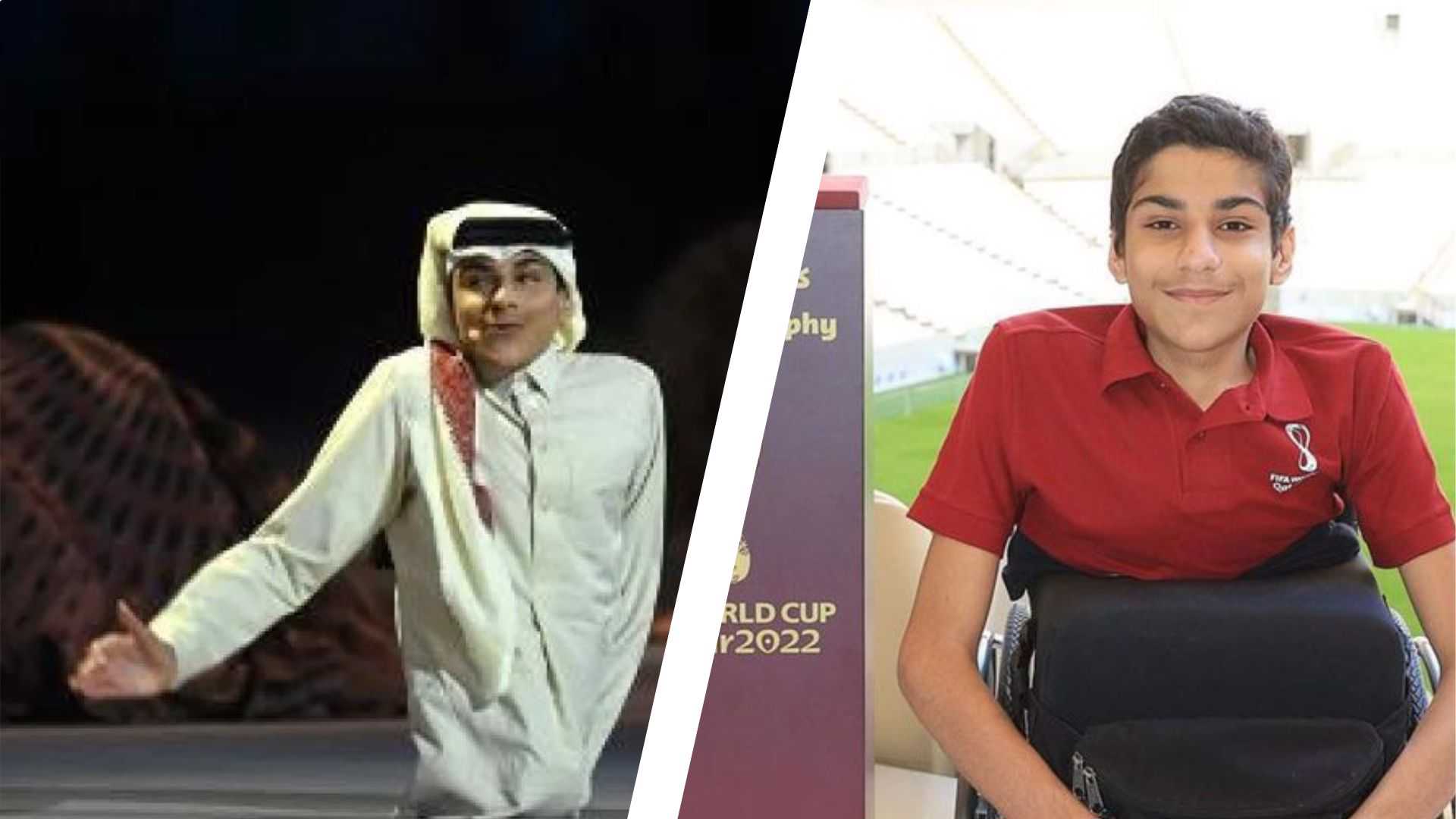 Ghanim Al Muftah, the young man who started FIFA 2022 with a verse from the Quran.
Ghanim Al Muftah, a young man of tenacity from Qatar, began the FIFA World Cup Qatar 2022 opening ceremony on Sunday by reciting a verse from the Quran in a moment that was unprecedented in World Cup history.
Ghanim Al Muftah, an international star and Qatari champion who opened the ceremony by delivering a verse from the Quran, presented a one-of-a-kind painting that astounded the globe in the midst of an exuberant and celebratory ambiance on the grounds of the illustrious Al-Bayt stadium.
Who is Ghanim Al Muftah?
Al Muftah, one of the twin brothers, was born on May 5, 2002, in Doha, the capital of Qatar. He was diagnosed with caudal retraction syndrome at birth.
An uncommon congenital disease called caudal retraction syndrome often referred to as caudal dip or sacral dysgenesis, is when the lower half of the spine is not fully developed before birth.
One person in every 25,000 cases of this disease is affected, therefore the Qatari Ghanim Al Muftah lived his life with just half of his body after losing a significant portion of his bones to it.
His mother reportedly sought to enroll him in a primary school, according to numerous media sources. But other schools turned him down, and when he did finally get accepted into one, kids were reluctant to play with him because of his condition.
Al Muftah credits his mother with instilling a good view of life, and his father with teaching him the value of perseverance and patience.
Al Muftah wants to work in diplomacy for his nation. In 2015, he served as an ambassador of goodwill for the "Good Hands" Foundation in Asia. In 2017, he took part in the United Nations Youth Forum.
Ghanim has published a number of inspirational books and articles that assisted many disabled persons in overcoming their challenges.
Al Muftah has a strong sense of initiative. He started his own ice cream business, "Gharissa Ice Cream," after getting inspiration from his mother. His business currently has 60 employees and 6 outlets.
Ghanim also established the Al-Ghanem Foundation, a nonprofit that donates wheelchairs to persons with disabilities all around the world, with the help of his family.
Ghanim al-Muftah received the blessing of performing Umrah in a wheelchair in 2017.
During his college years, he played football while wearing gloves. In addition to football, he also likes diving and has demonstrated the fundamentals of diving up to 200 meters under the water.
Ghanim Al Muftah excels in sports and the community, but he is also pursuing his education at the university level. He majored in political science, and his long-term ambition is to work as a diplomat.
With more than 7.3 million TikTok followers, more than 3.3 million Instagram followers, and almost a million YouTube subscribers, he is also a well-known figure on social media.
"Since I was young, I learned to reconcile with myself, and with things that I cannot change, so I reconciled with my body, I reconciled with my appearance," Ghanim stated in one of the films.
"By the grace of God", he continues, " I have reached the conviction that God – Glory be to Him – created me in the best form, and that my pains were healed with patience, praise, and supplication,"
Ghanim said, "Reconciliation with things that we cannot change is strength and not weakness, happiness and not misery, hope and not pain. I have accepted my body and thank God for it."
Ambassador of the World Cup
Al Muftah was appointed as the official ambassador for the event, which will be held in the Arab world for the first time in 2022, by the Qatar World Cup Supreme Committee on April 1.
Al Muftah published a brief tweet on his official account, expressing his immense happiness and satisfaction in this decision.
"It is a great honor for me to announce that I have been selected as an official ambassador for the FIFA World Cup 2022, and I look forward to sharing with you the enthusiasm and excitement on our way to the tournament," Al-Muftah stated.
The caption on a video clip he shared that day with Gianni Infantino, President of the International Federation of Football Associations (FIFA), read, "Thank you for this honor and trust, and thank you for the gold medal that you gave me, it is a great honor to work alongside you."