The celebration of Halloween in Saudi Arabia's Riyadh took place under a "masqueraded" event. Under de facto ruler Crown Prince Mohammed Bin Salman, Saudi Arabia has organized an event to celebrate the formerly banned holiday of Halloween. This is a significant development for the Land of the Two Holy Mosques as it works to modernize the nation.
On Thursday and Friday on Riyadh's Boulevard, dubbed the "Scary Weekend," participants dressed up in gory costumes and fancy dress and posed for photos that were extensively shared on social media. In the Saudi capital, the occasion was organized as a part of the ongoing Riyadh Season.
The Boulevard was transformed into a costume party with free admission for dressed-up guests as long as they donned frightful attire.
The purpose of the event was to display horrifying disguises and display locals' and Saudis' inventive creations. The intention was to create an environment that was enjoyable, thrilling, and exciting as visitors learned the backstories of the various character outfits.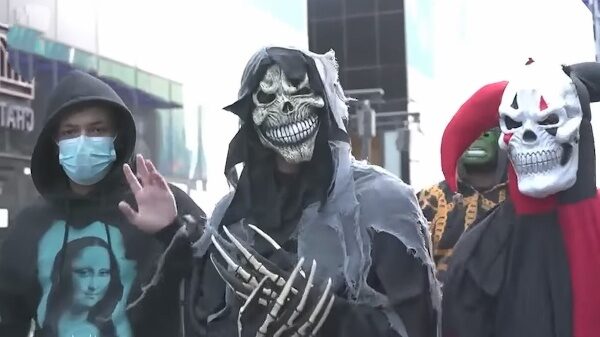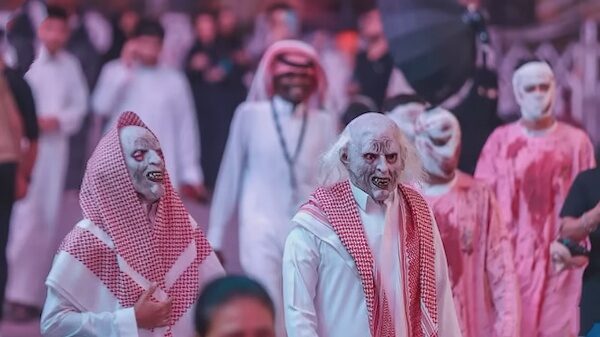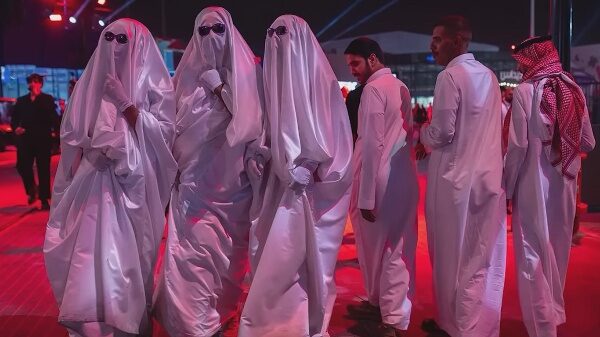 However, some Muslim social media users have criticized Saudi Arabia's religious establishment for having double standards by allowing once-banned non-Muslim festivals while others have accused the kingdom of having "ultra-conservative" celebrations despite the fact that Al Mawlid, the birthday of the Prophet Muhammad (peace be upon him), is not allowed but Halloween is.
The second costume-themed occasion to take place in the city was "Scary Weekend." The biggest costume party in Saudi Arabia, the masquerade party, was held earlier this year on March 17 and 18 at Riyadh Boulevard in Riyadh City. The first Halloween in Saudi Arabia's capital was celebrated last year.
According to a New York Times report, the government-sponsored event was planned to take place right before Halloween, which falls on October 31 each year, in order to avoid being perceived as formally observing the festival's pagan origins.
Controversy over Halloween Celebration in Saudi Arabia
Saudi Arabia has long been a conservative nation with a ban on all of the pagan and western traditions. But this celebration of Halloween in Saudi Arabia signals to the changes that are taking place there, for the worse.
After images and videos of Saudi Arabians in Halloween costumes emerged on social media, the country's Halloween celebrations became the subject of intense debate.
In a flash, the hashtags "#Weekend horror" and "costume of evil" took over Twitter.
Halloween has yet again sparked debate about whether it is permissible for Muslims to participate in Western celebrations of non-Islamic holidays. Some have said that Saudi Arabia adopts the newest fashions and that celebrating Halloween or any other holiday is detrimental.
What is Halloween?
On October 31, 2022, Halloween is observed as a Holiday in America. To mark the occasion, individuals would dress up like horror movies and superhero heroes.
Halloween is known for people dressing up in spooky costumes and masks, as well as for entities like ghosts, skeletons, vampires, witches, and demons.
Saudi under Crown Prince Mohammad bin Salman
The New York Times describes the changes that have occurred in the kingdom since Crown Prince Mohammed bin Salman, who is now the heir to the throne and prime minister, came to power in 2015 and started to remove societal constraints, as "frightening manifestations."
Prince Mohammed has also started a push to create entertainment as a brand-new industry outside of the oil industry.
For the first time in decades, movie theatres were opened, and the kingdom was dominated by a number of government-sponsored events, most notably the month-long Riyadh Season.
Saudi Arabia is pushing new attractions like Al-Ula, a developing art center in the nation's north, in addition to the music fests and sports events that have started to be held throughout the kingdom in recent years.
At an expense of hundreds of billions of dollars, it is also constructing Qiddiya, a theme park in the Walt Disney style, and opulent resorts along the Red Sea in the Maldives design.
Is Halloween Haram in Islam?
The most important question here is that "Is Halloween Haram in Islam?" or "Is celebrating Halloween Haram in Islam?"
Yes, obviously, celebrating Halloween is Haram in Islam. Halloween has its roots in the pagan traditions of Celts in Europe which made their way into Christianity and now all over the world. The worship of the dead or asking and sacrificing for the dead or coming back of the dead in the world is what we do not agree with or believe as muslims. It is equivalent to Shirk (associating  God with other deities) which is a major sin in Islam.
So we request our Muslim brothers and sisters to not get involved in these sins and innovations. These are not the signs of modernization, but the Signs of Qiyamah (End of Days).
Stay updated on Latest News and Articles. Or Check out our Instagram feed for daily Islamic reminders.