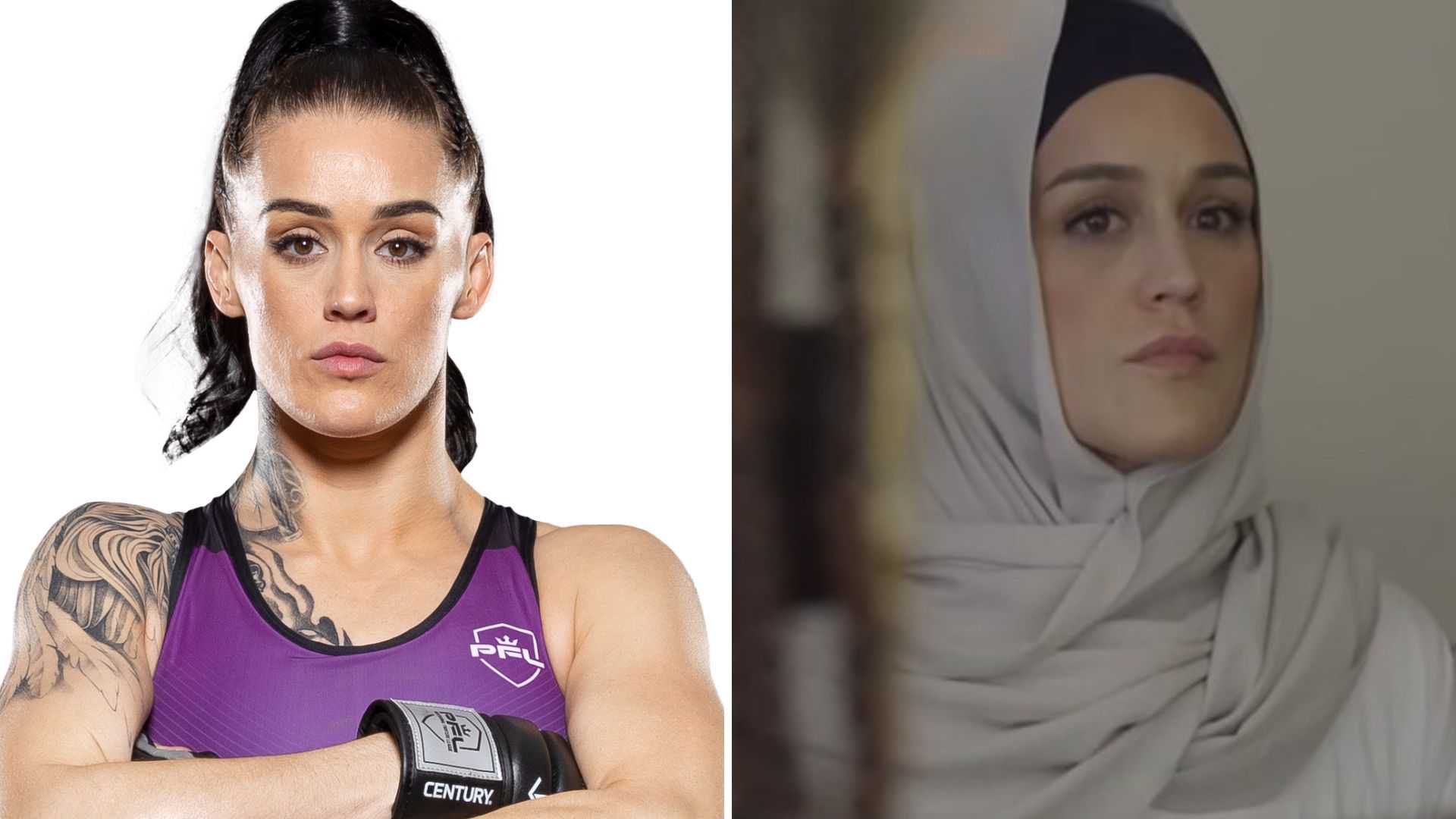 MMA Fighter Amber Leibrock reverts to Islam
Amber Leibrock reverts to Islam: Back in July, Amber Leibrock, an American MMA fighter competing in the featherweight division of the Professional Fighters League (PFL) made a shocking confession. Amber took an important step in her life by pledging the Creed (Shahada). This decision was made after Amber was introduced to Islam by a Muslim Mentor who gave her a deep insight into the religion.

"MJ (Mujeed Hameed) who is always been a mentor of mine, he introduced me to the faith and he helped me convert."- Amber Leibrock
"I think it's helped her out tremendously with the fighting, the patience (sabr) and just the tolerance, just dealing with the nerves, trust in God you know, trust in God to guide her, you know we just try to help him in their journey in life and fighting and above and beyond that."- MJ
Apparently, Amber embraced Islam after going through a difficult time in her life. One of the pivotal moments in her transformation was when she lost a fight against Larissa Pacheco. Although her defeat in the fight was not the only Factor, the change came as a reaction to a series of personal problems she was experiencing.
"I converted to Islam about 5 weeks ago. After the Larissa fight you know some personal things happened and I was just kind of in a really dark, like lost place and I was just asking God over and over again. like please, like just, just help me like, you know, fill my heart, fill my soul." – Amber Leibrock
After pledging her Islam at the Muslim Community Center in East Bay, California, USA, in front of the media, Amber Leibrock happily shared her happiness after embracing Islam.
"I just wanted to ask how do you feel like your discipline has changed with your conversion to Islam and how do you feel like uh it kind of matches with your Martial arts and lifestyle?" – Media
"For me to actually have to practice my religion every day, you know, as a Muslim we pray five times a day like every day you're all constantly you know, I read my Quran every day, especially in a new convert like, you know, I really want to make sure that I'm giving everything that I can because it saved my life it's changed me 100%. It's really pushed me into a place that I wasn't before. and I haven't been this happy or this grateful or just feeling like as blessed as I've ever felt. and win-loss whatever, like I still will go home, I'll go to the mosque on Friday and I'll still be you know what I mean, like in it 100% because I've never felt as good and connected with myself in the world and with Allah, as I do right now." – Amber Leibrock
Recently she said, she is blessed for all the changes that have happened in her life in the past 2 months:
"This year so far has been life changing. The last two months have been even more life changing. There's been ups and downs but at the end of the day I know I'm exactly where I'm suppose to be. As much as I wanted things to go differently you'll never here me say "Im not blessed." Because im beyond blessed. The good, the bad, doesn't matter "I'm blessed."
I've shared this year, these experience and memories with the ppl I love most and those are things that no one can ever take from me. The story starts here! ✨💚🤲 "Alhamdulillah"
 

View this post on Instagram

 
The bottom line is that one's life can change in unexpected ways and religious faith can give deeper meaning to life's journey. While we don't know what will happen next in Amber's Journey, our prayers can provide strength for ourselves and our Muslim brothers and sisters out there.
This was all about Amber Leibrock reverts to Islam. Stay updated on the Latest News and follow us on social media.