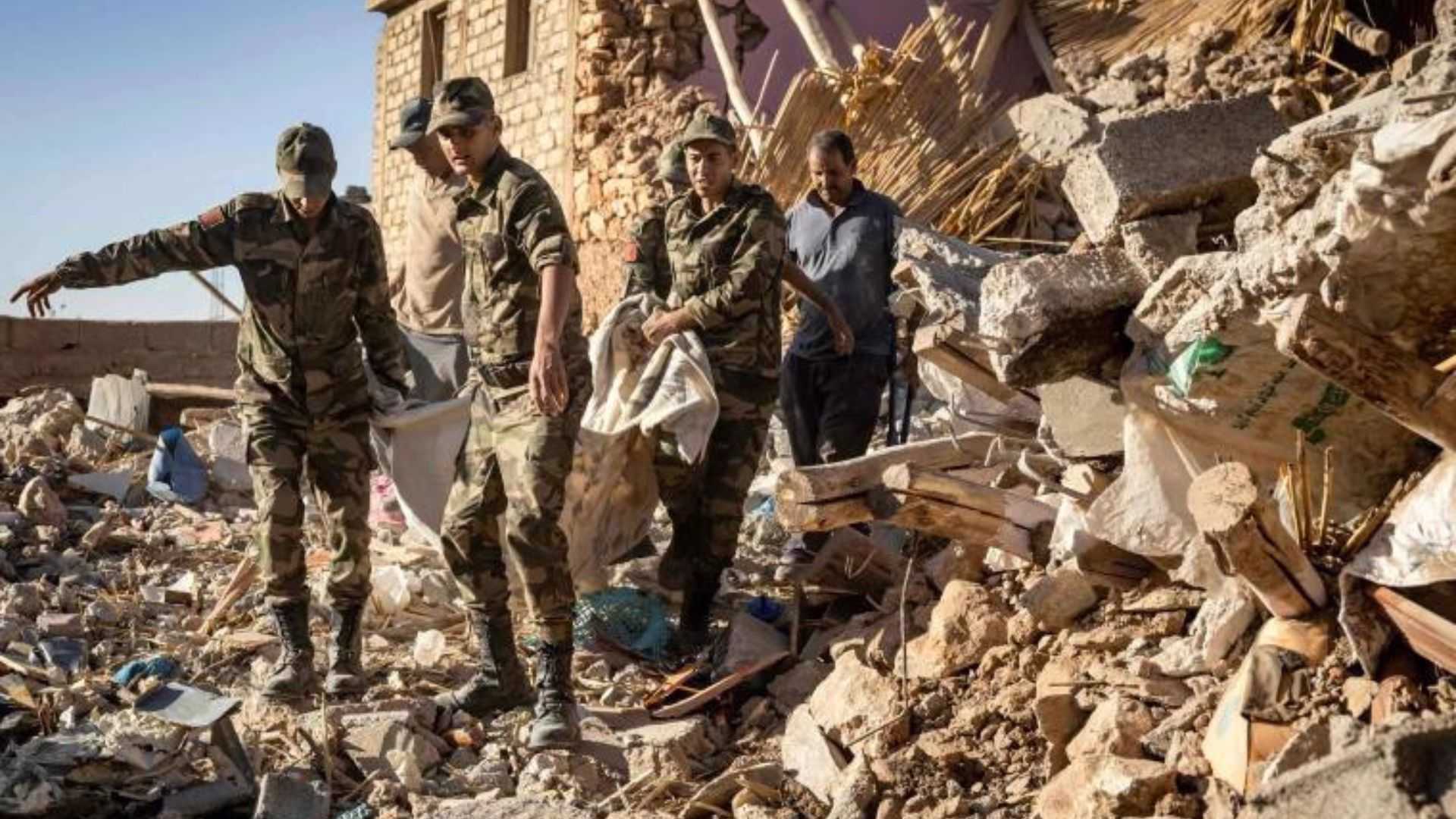 Morocco Earthquake: 6.8-magnitude Earthquake hits Morocco
Morocco Earthquake: After a strong earthquake shook Morocco in North Africa on Friday night, more than 2,000 people have died. There have been countless injuries.
The epicenter of the earthquake, which occurred not far from Marrakesh, a famous tourist destination and major commercial hub, was the strongest to strike the country's center in more than a century.
Here is what we currently know.
Where and when did the quake hit?
Around 6.11 p.m. ET (11:11 p.m. local time), the earthquake occurred. The High Atlas mountain range, which is around 72 kilometers (44.7 miles) southwest of the 840,000-person city of Marrakech, is where its epicenter was found.
However, its effects were felt as far north as Casablanca.
In all over the country, the earthquake was felt, including in the provinces of al-Haouz, Marrakesh, Azilal, Ouarzazate, Chichaoua, and Taroudant.
How powerful was the earthquake?
With a magnitude of 6.8, the earthquake is considered to be "strong." It was more devastating because it also hit at a shallower depth.
According to the US Geological Survey, earthquakes of this scale are unusual in the area but not unheard of. It stated that since 1900, nine earthquakes of magnitude five or higher have occurred nearby, although none of them have reached magnitude six.
Since a quake that killed more than 12,000 people in Morocco in 1960, this earthquake is the country's deadliest.
The worst damage is where?
The WHO estimates that more than 300,000 individuals in Marrakech and its surrounding regions have been impacted. Historic sites have suffered damage, but the areas closest to the Atlas Mountains have been severely struck. Some buildings in Marrakesh's old city, a UNESCO World Heritage site, reportedly fell, according to locals.
Almost all of the dwellings in a section of the village of Asni were damaged, according to eyewitnesses on the foothills of the mountains, who reported seeing certain areas completely devastated.
In the Al Haouz province, more than 1,000 people have died, while more than 400 people have died in Taroudant, a city in southwest Morocco.
The exact magnitude of the earthquake is still unknown.
Large breaches were visible on one piece of the medieval city wall, and there was debris on the street.
When the earthquake occurred in the late hours, tourists and locals recorded videos of people running from buildings while dance music was blasting in the background.
Two individuals were hurt when a portion of a minaret collapsed on the renowned Jemaa el-Fna square in the old city, according to video posted on social media.
Were there any aftershocks?
19 minutes later, a magnitude 4.9 aftershock was recorded by the USGS.
According to news sources, men, women, and children are remaining outside because they are concerned about additional earthquakes.
Do earthquakes of this size frequently occur in Morocco?
The nation and the surrounding area had not experienced an earthquake of this size in more than 120 years.
"Since 1900, there have been no earthquakes M6 [magnitude 6] or larger within 500km of this earthquake, and only nine M5 [magnitude 5] and larger," the USGS said on its website.
Where else was the earthquake felt?
According to Algeria's Civil Defense organization and the Portuguese Institute for Sea and Atmosphere, the earthquake was felt as far away as Algeria and Portugal.
What is going on in reality?
Despite several routes being damaged or blocked by debris, emergency personnel were sent to the impacted areas. It has been challenging to reach some of the far-flung towns at the mountain's foot.
Mohammed, 50, from Ouirgane, lost 4 family members as a result of the earthquake. "I was able to escape safely with my two kids, but I lost the others." He said, "My house is gone."
Rescue efforts are still being conducted. "We are on the streets helping the police remove the bodies from the wreckage. In front of me, numerous people were being taken to the hospital." He said, "We are looking for miracles in the ruins.
Some Marrakesh residents chose to spend the night outside because they were terrified to go inside their homes. Others completely left the city. Aftershocks have been foreshadowed.
The Moroccan government declared that it has used all resource at its disposal to address the earthquake and asked citizens to "avoid panic."
A relief commission was established by order of King Mohammed VI of Morocco to provide aid to survivors, including orphans and those who lost their houses in the catastrophe.
In addition, he proclaimed three days of national mourning and ordered mosques nationwide to offer 'Janazah' prayers, or funeral prayers, at noon on Sunday in memory of those who had died.
What was the worldwide reaction?
Many foreign leaders have commiserated with Morocco and offered their assistance.
French authorities have triggered emergency funding from local government finances to assist with relief efforts in earthquake-affected areas.
Tens of thousands of people were killed by a horrific earthquake that struck Turkey earlier this year. Turkey announced that it was prepared to support aid efforts in Morocco by sending 265 troops and 1,000 tents.
Algeria announced that it would restore its airspace to flights carrying humanitarian relief and medical supplies to and from the Arab country after cutting off diplomatic relations with Morocco in 2021 and banning all aircraft with Moroccan registration from using its airspace.
The World Bank has said it has promised the nation its "full support," while the United Nations and US President Joe Biden have also stated that they are prepared to offer assistance.
Numerous other international leaders have extended their sympathies, including Russian President Vladimir Putin, Chinese President Xi Jinping, Ukrainian President Volodymyr Zelensky, and Indian Prime Minister Narendra Modi, who was present at the G20.
This was all about the Morocco Earthquake. Stay updated on the Latest News and follow us on social media.