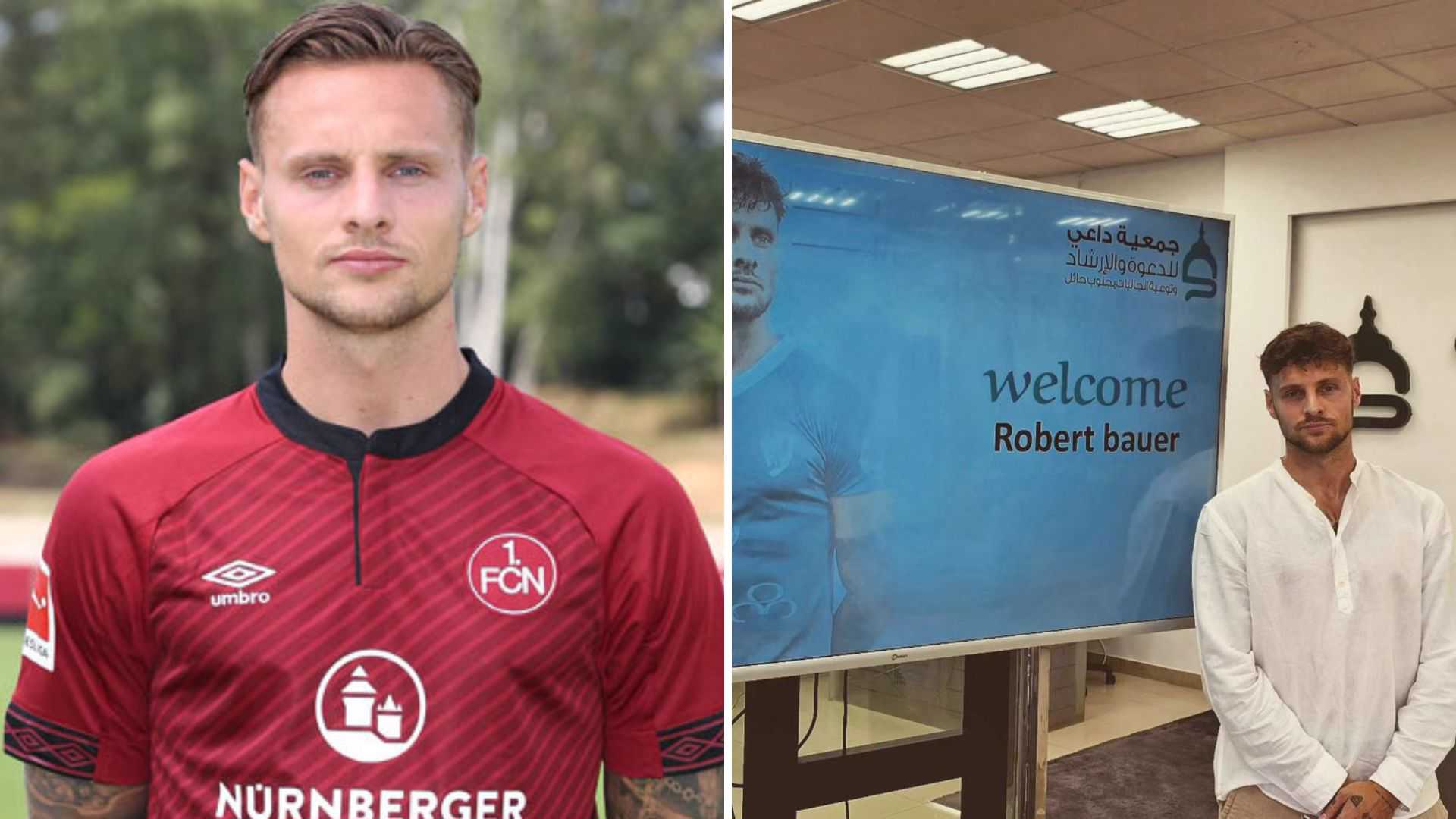 German Footballer Robert Bauer Converts To Islam
Robert Bauer Converts To Islam: Robert Bauer, a defender for the German football team, publicly proclaimed his conversion to Islam and thanked those who had supported him along the way.
Bauer recently shared a photo of himself praying on Instagram and explained how his wife and her family introduced him to Islam.
"For all the people messaging me today. I came to Islam through my wife and her family. It's been many years and I'm thankful for you all to help me and encourage me on my journey," Bauer stated.
Bauer also posted a verse from the Holy Quran that read, "And he is with you wherever you are." (Qur'an 57:4)
Let's learn more about why Robert Bauer Converts to Islam.
Who is Robert Bauer?
Robert Bauer, who signed a one-year contract to play in the Saudi Professional League in May, is presently a player for the Saudi Arabian team Al-Tai.
On October 31, 2014, against Fortuna Dusseldorf, the 28-year-old German footballer made his Bundesliga 2 debut, taking Alfredo Morales' place. On November 22, 2015, Bauer scored his first Bundesliga goal in the game vs Dramstadt 98.
In August 2016, he relocated to Wender Bremen, then two years later, he was loaned to FC Nurnberg. Later, he committed to a long-term deal with FC Arsenal Tula of Russia, and in September 2021, he relocated his base to Sint-Truiden, Belgium.
Robert Bauer Background Story: Said Shahada when he Married
On 15 September, on an Instagram post, Robert Bauer cleared some questions about him and his conversion to Islam. This is what he wrote:
"Since I'm getting lots of questions, let me tell you a little bit about me and our story:
I'm born in Germany to Christian Kazakhstani parents who moved to Germany in 1994.
I met my wife in Dubai, she is born Muslim and practices it, she is born in Tanzania to a Tanzanian father and a Turkish Iranian mother. She grew up mostly in Dubai and also has her family there.
I said my shahada many years ago when we got married but didn't really know much about it. Over the years I learnt more and more but now, after coming to Saudi I feel the warmth of Islam and wanted to say my shahada again, read the quran and learn and practice.
I want to thank you all from the bottom of my heart for the love and support I'm receiving and am excited to learn and grow. 🤍
اهْدِنَا الصِّرَاطَ الْمُسْتَقِيمَ
#alhamdullilah"
 

View this post on Instagram

 
In an earlier post, he showed his appreciation for all the support and love he received on converting to Islam. he said:
"Thank you all for your kind messages and support, I appreciate each and everyone of you 🤍
#alhamdulillah"
 

View this post on Instagram

 
When did Robert Bauer Convert To Islam?
Apparently, he took his shahada when he married his Muslim wife but he learned more about Islam over the years. and now, while playing in Saudi Arabia, he discovered the beauty of Islam, which made him retake his shahada, just to strengthen his faith.
This was all about Robert Bauer's Conversion to Islam. Stay updated on the Latest News and Articles. Or follow us on social media for daily Islamic reminders.