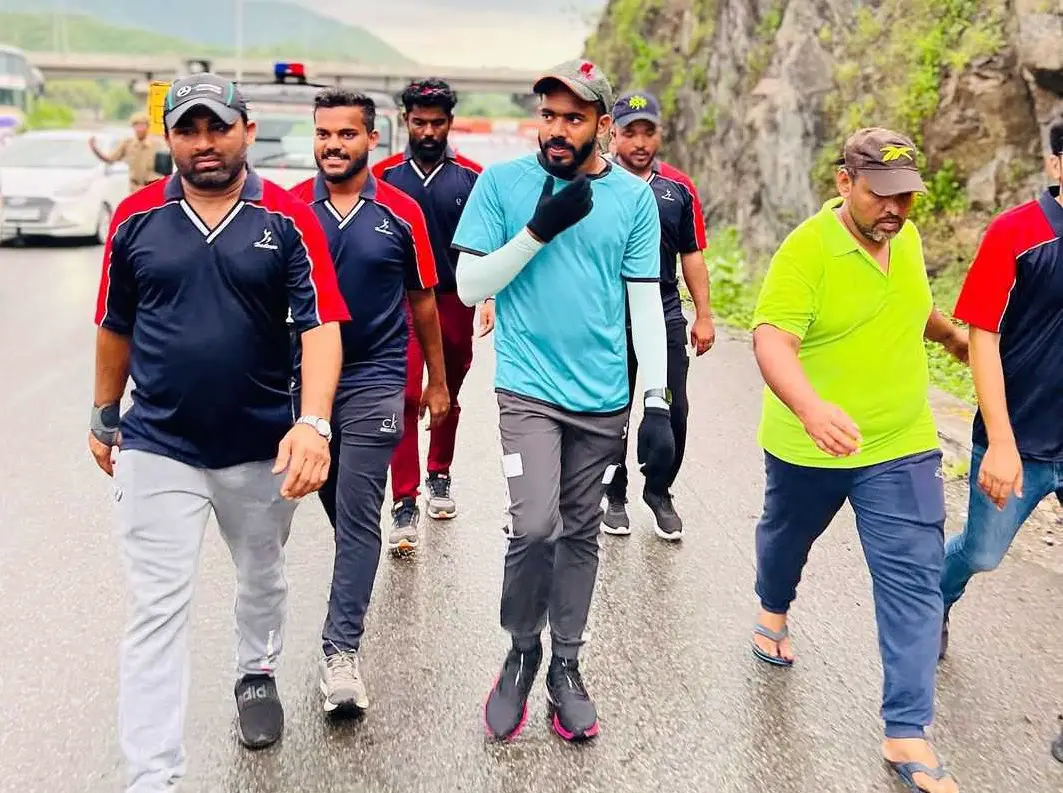 While most Muslims travel by plane, car, or ship from all over the world to Makkah to perform the annual Hajj pilgrimage, a 29-year-old man from Kerala has begun walking the 8,640 kilometres to Makkah to complete the Hajj in 2023.
In the Malappuram region of Kerala, near Kottakkal, Shihab Chottur, a shop owner, embarked on his extraordinary voyage on June 2. He travels at least 25 miles on foot each day.
After traveling through India, Pakistan, Iran, Iraq, and Kuwait, he will finally arrive in Saudi Arabia somewhere in early February 2023, just in time for Haj.
According to numerous media accounts, Shihab's mother's encouragement and support motivated him to go on the journey. His wife and other family members provided him with a lot of assistance.
Three of Shihab's companions are currently travelling with him from Kerala to Makkah. In order to facilitate their journey, a six-person Karnataka crew is trailing him in the present extension.
According to reports, the planning and study for the trip took about nine months, and the hardest part was getting the visa paperwork completed for their on-foot trip.
"I am eager to perform the series of rites as part of Haj. Performing Haj sincerely, solely for the sake of Allah, will turn a person as pure as he was on the day his mother gave birth to him. I hope to come back from Mecca as a pure soul," Shihab was quoted by The New Indian Express.
Shihab has received a resounding welcome as he travels across states where many people are lining the streets to welcome him and get a sight of him.
The Hajj
All adult Muslims who are physically capable and financially able have a one-time responsibility to conduct the Haj, one of the five pillars of Islam.
Hajj 2022
This year, Saudi Arabia has resumed allowing 1 million Muslims to perform the Hajj after a two-year break. Haj was exclusively available to Saudi Arabian citizens in 2020 and 2021.
Shihab Chottur Controversy
The recent Hajj pilgrimage by Shihab Chottur from India who traveled on foot has sparked a debate among Islamic scholars in the State. Shihab Chottur set off on his 8,600-kilometer journey from Malappuram, Kerala in the first week of June, but it wasn't until he had just crossed the State border that debates over the morality of his actions broke out. The debates include questions on whether a person should travel for a Hajj Pilgrimage by Foot in this modern age when multiple choices of transport are available. Some scholars suggest it is better to go by vehicle when one is available, while others find no odds in Shihab's mission.
Nevertheless, Shihab Chottur's journey continues.
Stay updated on Latest News and Articles. Or Check out our Instagram feed for more informational content.